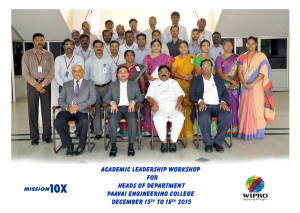 Wipro Mission 10X Technology Learning Center (MTLC)
Mission10X workshop was conducted by Wipro Ltd. at Paavai Campus during 14th to 18th Feb 2011, which kick started the association of Paavai Institutions and Wipro Ltd. 33 Paavai Faculty successfully completed this training program and started practicing these learnings in their Classroom sessions to Paavai Students. Advanced Training was given to 27 of these Faculty for 3 days during April 2011.
Due to its active participation and making use of Mission10X Workshops' learnings, Wipro Mission10X decided to set up jointly Mission10X Technology Learning Center(MTLC), Paavai was recognized to set up MTLC on its campus – after a due validation of the facilities and faculty by a high power Team of Wipro Ltd. Paavai's MTLC was inaugurated on 21st July, 2012 by Mr. P.B.Kotur, Head – Mission10X, Wipro Ltd.
An ideation Festival was conducted in Paavai MTLC on 27th Oct, 2012 – with Dr Sujatha of Wipro Ltd. alongwith Independent Consultants, They evaluated the Students' idea Presentations and shortlisted 15 of them to take it further using the Unified Technology Learning Platform(UTLP) kit.
A Five day workshop on UTLP learning framework was undergone by Dr. Suphalakshmi, Prof Immanuel and Asst Professor Arun at Wipro, Bangalore and they in turn did the knowledge/learning transfer to 40 Paavai Faculty thru a six day workshop during Dec 2012, thereby spreading the effective use of UTLP kit. Dr Sricharan and Dr Sujatha of Wipro Ltd, Bangalore conducted from Jan 2011 to 25 Paavai Faculty on how to do projects with UTLP Kit. Paavai Students are getting immensely benefited thru MTLC learning in doing embedded systems projects.
The learning and technology enrichment @ MTLC for Paavai Students and Faculty is an ongoing story and it continues….
Wipro Mission 10X Events:
/ Wipro Mission 10X