Advanced Partner Institute at 2013
Infosys' Campus Connect (CC), is a first of its kind Industry – Academia interaction program. Campus Connect aims to be a forum where some of the best practices at Infosys get shared with partnering colleges. Campus Connect looks at aligning the needs of partner colleges, its faculty and students, with those of the IT industry.
As Infosys Campus Connect Partner
The Stduents of Paavai Engineering Colleges, Namakkal, Tamilnadu, India, have access to CC Portal which provides.
Access to Foundation Program (FP) and Soft Skills Courseware created and used by Infosys to train entry level engineers – this enhances the employability skills of our students
Student Project Bank for the pre-final / final year students
Monthly Newsletter for students
Discussion Forum
Soft-skills Knowledge Bank
Effective English
Recognition
Paavai's Good work in the Campus Connect Programs of Paavai Engineering Colleges was bestowed the status of Advanced Academic Partner in their CC Programs.
Principals' Meet was held on 9th March 2012 at Infosys Bangalore Development Centre.
Events
An appreciation received – 'Paavai is recognized as Advanced Partner Institute'.
Another feather in the Cap of Paavai Engineering College from Infosys Campus Connect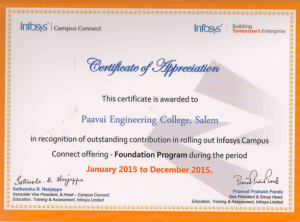 Outstanding Contribution
During the Principals' Meet held at Infosys' Bangalore Development Centre, on 30th March 2016, Paavai Engineering College got an additional recognition from Campus Connect Team as one among the Top 3 Institutions (under Bangalore DC) for outstanding contribution in rolling out Infosys CC Offering – FOUNDATION PROGRAM during 2015. This certificate was received by Dr Suphalakshmi, Head – CSE & SPOC – Infosys CC, on behalf of Paavai Engineering College.
The Chairman, Correspondent, Director – Admissions, Director – Administration, Director – Operations extend their hearty congratulations and appreciation to the Principal, all Heads of the Departments, Entire Faculty Members of Paavai Engineering College for their consistent contribution in ensuring more than 450 Paavai students to participate & complete the Infosys Foundation Program successfully earning the Certificate, year after year over the last 5 years of association with Infosys as Campus Connect Partner/Advanced CC Academic Partner.
/ Infosys Campus Connect